2010 Comp Submissions
It's that time of year again. We're now accepting submissions for the 2010 Compilation! All genres encouraged! Submit your track by February 28th, 2010
Buy the 2009 Comp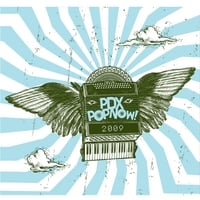 Get it online from CD Baby or at record stores around Portland such as Music Millenium, Jackpot Records, Everyday Music, and many more!
Online Friendliness
Follow our updates on Twitter: twitter.com/pdxpopnow
Friend us on MySpace
Friend us on Facebook
Volunteer
Want to be a part of PDX Pop Now! 2009? Get in touch with our volunteer coordinator here.
Join our mailing list

OPB Music proudly supports PDX Pop Now's year-round programming.
Our Mission
PDX Pop Now! is dedicated to stimulating and expanding participation in Portland music. As an all-volunteer organization committed to being accessible, current, and local, we provide and support live performances and recorded materials. We aspire to advance a sustainable community which values inclusivity and a high caliber of artistry to enable a creative dialogue between artist and audience.
Festival Videos
Checkout videos of PDX Pop Now! events on YouTube.
Festival Photos
Here are some photos taken at past PDX Pop Now! festivals and events. If you have some you'd like to add, please chuck them into our Flickr group.
T-Shirts
Click here for t-shirts! Whee!
Support PDX POP NOW! Make a PayPal donation today.
100% of the money you give goes to support all of our activities.
PDX Pop Now! Accepting Compilation Submissions, Hosts Volunteer Meeting and Unveils More Details On Karaoke Benefit
09:21PM on Thursday January 07, 2010
It's the start of a very busy new year for PDX POP NOW!
Comp submissions now being accepted
Musicians interested in submitting music for consideration for inclusion on the compilation, can make a submission online through an mp3 upload. The submission form can be filled out online, though it will need to be printed, signed and mailed to PDX Pop Now! to complete the submission. Artists can still opt to mail in CDs of their music submissions if they prefer. See the top of the side bar for all of the details.
2010 Volunteer Meeting
The first PDX Pop Now! volunteer meeting of the year will be held at 7pm on Tuesday, Jan. 12, at Backspace (115 Northwest 5th Avenue). This will be an opportunity for all those interested to learn about all of the different volunteer opportunities including festival volunteering, compilation listening committee, booking committee and sponsorship committee. If you are unable to make the meeting or have any questions, contact Hannah Rosenau, Volunteer Coordinator at volunteer [at] pdxpopnow [dot] com.
Pop Night!
As previously announced, PDX Pop Now! is hosting the second annual Pop Night! at Voicebox Karaoke (2112 Northwest Hoyt Street). The event will be open to all ages on Thursday, January 28 from 6:00 – 9:00pm and then will be an over 21 event from 9:00 until close. Admission is $8 and all proceeds benefit PDX Pop Now! As a special treat, there will be karaoke tracks from some of our favorite Portland bands!
Give! to PDX Pop Now! so you can dance all night to DEELAY CEELAY!
05:17PM on Friday December 18, 2009
January 15th, at Berbati's, come dance for joy at how awesome you Give!Guide donors are. The only way to guarantee entrance to the party with Deelay Ceelay and a super secret Special Guest, is to donate $25 to PDX Pop Now! through Willamette Week Give!Guide. Get your tickets by donating now. See you at the Dance Party!
PDX Pop Now! in the Willamette Week Give!Guide!
08:20PM on Wednesday November 11, 2009
For the first time ever, supporters of PDX Pop Now! have a chance to show their love by making a tax deductible contribution to PDX Pop Now! through the Willamette Week Give!Guide.
Donations through the Give!Guide are accepted November 11 – December 31.
The best part is, all donations through the Give!Guide come with great incentive prizes provided by PDX Pop Now! and the Willamette Week.
Britt Daniel | The Robinsons | IOA Play to a Sold Out Crowd
12:00AM on Tuesday November 03, 2009
On Thursday, October 29, Britt Daniel of Spoon played a benefit for PDX Pop Now! to a sold out crowd along with The Robinsons and IOA at Mississippi Studios.
Proceeds from the event will help PDX Pop Now! continue it's commitment to Portland's music community.
Thanks to everyone who attended and especially to the musicians, the wonderful people at Mississippi Studios and our media sponsors OPBMusic.org.
Photos by Tyler Kolhoff
Britt Daniel Benefit Show October 29
06:18PM on Monday October 19, 2009
Britt Daniel (of Spoon)
The Robinsons (of Viva Voce)
IOA (of Point Juncture, WA)
Thursday, October 29 | Mississippi Studios
8 p.m. Doors
Tickets available at mississippistudios.com.
All proceeds benefit PDX Pop Now! and help guarantee the future of the annual PDX Pop Now! festival, local music compilation, school shows, and more!
Sponsored by OPBMusic.org