The Willamette Week Give!Guide is live! Please show your support for PDX Pop Now! by making a contribution.
This year we're hoping to inspire even greater support, and with your help we'll meet and exceed our goal of raising $5,000 to fund our burgeoning school outreach programming.
2010
PDX

Pop Now! Festival

July 30 – August 1
Rotture (315 SE 3rd Ave, PDX)
Click here for details!
Buy the 2010 Comp!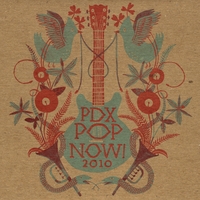 Hot off the press! Get it online from CD Baby or at record stores around Portland such as Everyday Music, Jackpot Records, Music Millenium, Tender Loving Empire, and many more!
Online Friendliness
Volunteer
Want to be a part of PDX Pop Now! 2010? Get in touch with our volunteer coordinator here.
Join our mailing list
Buy the Photo Book
This book is a collection of hundreds of photographs by 16 different photographers that visually document the tremendous variety of artists that have performed at PDX Pop Now! festivals and events during the first five years of our existence, 2004-2008. All proceeds from the book will directly benefit PDX Pop Now! so we can continue to operate and expand our reach for years to come. Thank you for your support!

OPB Music proudly supports PDX Pop Now's year-round programming.
Our Mission
PDX Pop Now! is dedicated to stimulating and expanding participation in Portland music. As an all-volunteer organization committed to being accessible, current, and local, we provide and support live performances and recorded materials. We aspire to advance a sustainable community which values inclusivity and a high caliber of artistry to enable a creative dialogue between artist and audience.
Festival Videos
Checkout videos of PDX Pop Now! events on YouTube.
Festival Photos
Here are some photos taken at past PDX Pop Now! festivals and events. If you have some you'd like to add, please chuck them into our Flickr group.
T-Shirts
Click here for t-shirts! Whee!
Support PDX POP NOW! Make a PayPal donation today.
100% of the money you give goes to support all of our activities.
History of PDX Pop Now
This year marks the seventh consecutive edition of PDX Pop. For information about the previous years' festivals check out their archived websites: 2009, 2008, 2007, 2006, 2005, 2004